I don't know about you, but I had an amazing Memorial Day weekend. I was able to spend time with family and friends while remembering all of the service men and women who are sacrificing for us every day.
The last few weeks have been a real whirlwind for us as we moved our belongings and are now in that waiting place while we finish some activities prior to moving into our new home. I've been able to spend a good amount of time in the Ladycave sanding, priming, painting, and brainstorming.
I recently finished these Poppy side tables and oh boy, did they go through a transformation. At first, I thought I would paint them black with a glossy finish, but I wasn't absolutely
in love
with them when I was done. So, like so many of my projects, I let them hang around for awhile, and I ruminated for a bit as to what should be done. I finally decided to paint over the black with CeCe Caldwell's Vintage White and then distressed it so you can still see quite a bit of the black. I also went on a mad spree trying to find the perfect handles and pulls.
Once I started distressing, I was disappointed that many of the places that I either sanded or used a wet rag, the black sheen was very dull. In order to reclaim a bit of that shine that I wanted, I used an eraser on the Vintage White. Guess what! It totally worked! And... I'll be adding that cheap little tool to my toolbox from now on.
I only have a couple of photos from my iPhone because I was painting early on Sunday morning and running late for church. Most of the photos are of just one of the Poppy side tables taken early in the morning outside of the Ladycave.
Poppy Love
Do you see what's a little off yet? I'll give you a hint. You can't see it in the picture below.
A little closer look at Poppy


If you haven't guessed yet, the thing that's off in the photo is that this is still a work in progress. I haven't finished the distressing on the bottom so it's a little brighter than the rest of the table.
My photo of both Poppy side tables has really bad lighting, so you'll just have to trust there are two of them.
Thanks for coming along for the ride. The mosquitoes have been crazy lately, so bring your bug spray with you at all times. Honey B and I have that woodsy smell going for us these days.




Linking on Tuesday at: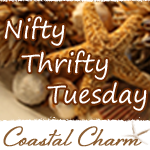 http://betweennapsontheporch.blogspot.com/